Get the edge with an Online Booking System
An online appointment booking system for your patients is a must-have in any medical clinic or practice. Without one, not only are you losing out in productivity efficiencies whilst your front desk manually schedules all patient appointments, but potential revenue from tech-savvy patients who are increasingly seeking the convenience of being able to make a medical appointment with their doctor or allied health professional online 24/7. 
As a leader in developing innovative technology for the Australian healthcare industry, our online appointment booking system is designed to support the ongoing needs of patients and clinics alike. The online appointment booking system seamlessly integrates into practice management software and is a web-based application that can be incorporated into your medical website or mobile clinic app. 
The patient booking system receives ongoing development to keep up-to-date with changing demands and technology. The latest iteration includes the ability for patients to book telehealth and COVID-19 vaccination appointments, and make payments at the time of booking. You can learn more about our partnership with payment provider, Tyro here. 
With our online booking system you can be sure that you are getting a quality booking system that is maintained and well-supported for your practice.
So, give your clinic the edge and your patients the best possible experience when booking their next appointment with you. All new clients receive their first month FREE.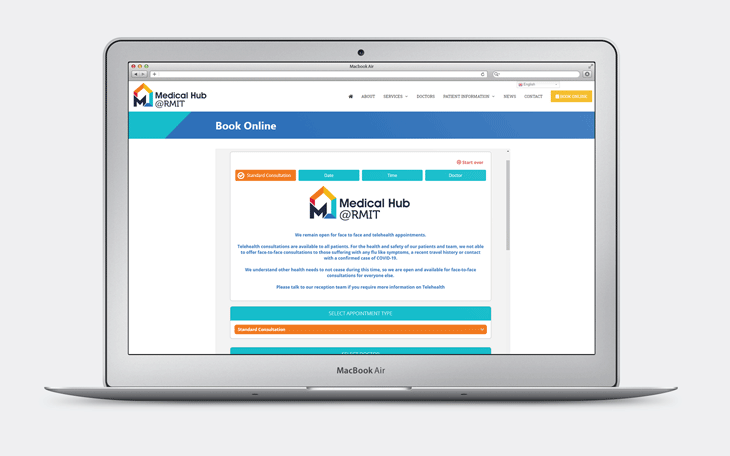 Online Appointments Booking System Product Summary
Customisable design – brand with your logo and colours
Easy to use for clinics and patients
Our online appointment system is fully integrated with Best Practice, BP Allied, ZedMed, CorePlus, and Optomate Touch, Medical Director / Pracsoft. This means our system seamlessly connects with your front desk system, allowing patients to book a real-time appointment with your medical practice 24 hours a day
Fully responsive design means the system works on all devices
Australian support and access to the developer team
Prices start at $52 per month
Key benefits of an appointment booking system
When you are searching for the best online appointment booking system, it's important to understand the key benefits that the product provides and that includes how it integrates with your existing practice systems. Doing so, will ensure that the patient booking system is the right fit for your practice.  We outline three key benefits of a booking system for both your patients and your clinic.
Contact us to try our appointment booking system demo to get a feel for how it will work for your clinic.
24/7 Patient Appointment Bookings
An online appointment booking system provides your patients with unprecedented access to your doctors. No longer do your patients have to wait until opening time to call and book an appointment.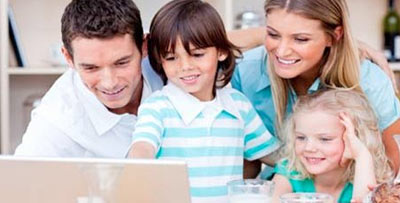 Save Money and Increase Revenue
By providing patients with the ability to self-book an appointment with a doctor at their convenience, it reduces the workload on the front desk, thereby meaning that staff can be used in more productive roles that are revenue positive such as assisting nurses with care plans, reviews or patient marketing.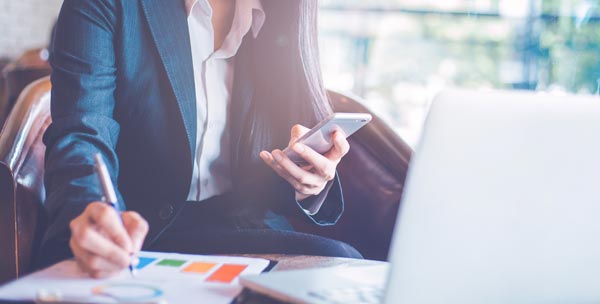 Have questions? We are here to help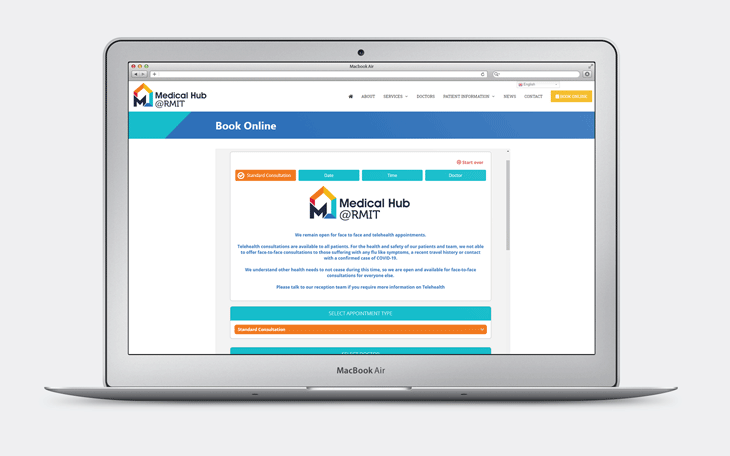 Fully Customisable Online Booking System
Your practice has the flexibility to use our appointments system in the way you want. You can choose:
Why choose Healthsite as your online booking system provider?
Healthsite puts your clinic first. We can add our online booking system to your website in a seamless and easy to use way and you will have access to the developers of the system and Australian based support. We are flexible, quick to adapt to changing circumstances (telehealth and COVID-19) and constantly improving our products (payment integration). Our pricing is competitive and we can bundle our products to find a digital solution for clinics of all sizes.
What do our Online Appointment clients say?
"Over the last few years, we have been working closely with the team at Healthsite, and I can honestly say, they have never failed to exceed our expectations. Given the unforeseen circumstances around Covid-19, Healthsite's support has been especially important, and has helped us manage the extra work and pressure that this situation has put on our clinics."
Following a competitive quote process, we engaged Healthsite to make our new website and we couldn't be happier with the result. Easy company to work with to get great results.
Pricing For Booking System
Prices start at $52 per month. Contact us for custom booking solutions.
Full Time Practitioner
$
52
+ GST / per month / full time GP
First Month Free

Fully integrates with your PMS

24 /7 access for your patients
Why not bundle a complete digital package?
We can offer bundle packages with significant discounts.
Example Bundle 
Online Appointment Booking System FAQs
Request a Booking System Demo
Fill in the form below and we will get back to you in lightning speed!