Exciting right?! Like a kid at Christmas…kind of
At Healthsite we're constantly updating, upgrading and making our products better. My team have told me we should be sharing these updates with the wider Healthsite family…you guys!
Our latest update adds to our online booking product with an additional feature that is requested quite a bit.
Appointment types can now be configured to be available (or not available) at particular times of the day, and particular days of the week…all dictated by you!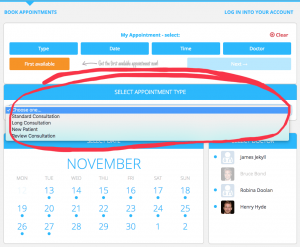 The time-base configuration will now allow you to have review consultations (for example) available to book online on a Tuesday afternoon, even if your front desk can book them at any given time or day. This will all seamlessly sync into your Patient Management Software!
We love flexibility and high levels of configurability at our company. If this is something that you'd like to add to your online booking system, please don't hesitate to contact our support team on (03) 9592 8986 or email directly to support@healthsite.com.au.